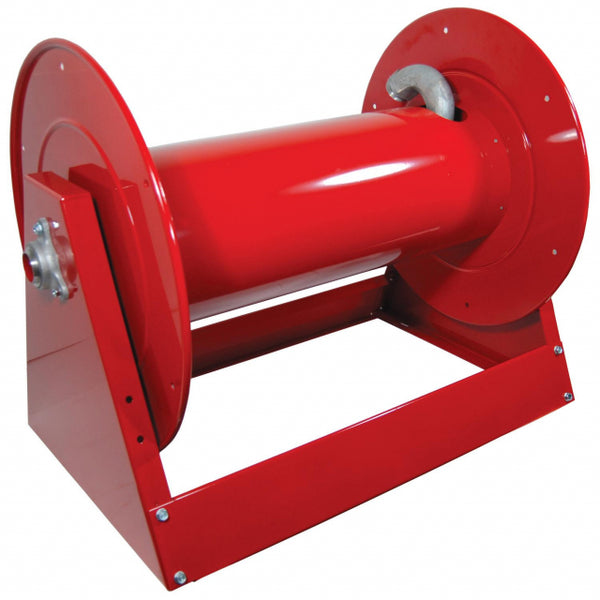 Allows immediate and continuous flow of water at all times during deployment of hose
One-person operation
Use with non-collapsible booster hose
Powder coated with an electrostatically-applied, thermally-fused, red polyester finish steel drum
Rims and universal mounting stand
Female NPT inlet with Male NH/NST outlet
Please note: A flexible connector assembly must be installed directly between the hose reel inlet hub and the water supply. Failure to use the flexible connector assembly shall void the warranty. Here is the link to the flexible connector:
The Continuous Flow Reel is engineered to allow both immediate and continuous flow of water or applicable media at all times. Hose may be fully charged or pressurized during storage and deployment. Please Note: Only non-collapsible (rigid) hose may be used with a continuous flow reel.
This reel is designed for one-person operation and is ideal for close quarter scenarios. For marine type applications such as off-shore drilling platforms, barges and ships, using this reel, the operator can benefit from a fully charged hose and deploy the exact amount of hose length rather than having to unroll the entire length before charging with pressurized water. The same design concept applies to "brush trucks" used in fire fighting. This reel will allow the truck to be positioned in close proximity to the fire, such as a dumpster of small grass fire. Once again, the operator only needs to deploy enough hose length to complete the task.
This continuous flow fire hose reel can be floor, wall or truck mounted, depending on the application.
The frame of this reel is durably built from high gauge steel. It is then subjected to a powder coating process, which is electrostatically –applied, then thermally fused. The drum itself features a red colored, polyester finish.
✔️ Delivery
All products are shipped within 24 hours of ordering Monday-Friday unless otherwise specified on the individual product description page. Your tracking number will be sent via email. Your item will ship from one of our three warehouses (California, Ohio, New York) depending on your location and stock availability. Most orders ship via USPS Air Priority, UPS Ground, or FedEx Ground. Most items ship free. If you need express shipping, please call us 1 (510) 214-3093 and ask us for help.
✔️ Returns
Returns on most new and unused items are accepted within 30 days of purchase unless items are described as "Special Order", "Used or Scrap", "Bulk Discounted Orders", "International Orders" or "Rare Fitting" in the product title or description. Custom length hoses are non-returnable. Custom lengths is anything outside of 25, 50, 75, or 100 feet. Customer is responsible for return shipping charges. If a return label is issued from Fire Hose Supply the return shipping fees will be deducted from the refund. A standard 25% restocking fee is applied to all returns. Returns must be approved before sending in. Contact us for an RGA or return slip for approval before you send in your returns. Once your returns slip has been issued it will list instructions with a ship-to address. Any return orders sent without an RGA or previous authorization may be rejected.
✔️ Special Order, Custom Order, Bulk Discount Orders, Rare Fittings & International Order Items
Special order, custom order, bulk discount orders, rare items & international order items cannot be cancelled or returned. Rare fittings include but are not limited to 2" NH (NST) and 3" NH (NST) fittings. Please make sure you are 100% sure of the product specifications you are ordering. If you don't fully understand the products you are ordering, please ask us for help to confirm the correct specifications you're looking for. Special order items are usually non-standard parts or bulk orders that are custom made directly from the factory.
✔️ Cancelled Orders
If you order has not been shipped it's possible to cancel. Cancelled orders are subject to 5% transaction fee. Cancelled orders due to backordered on listed "IN STOCK" items are not subject to a 5% transaction fee.
✔️ Warranty Information
All products will always be covered under their listed warranty. Product warranties are listed toward the bottom of each product description page. If you are unsure about your item warranty, always contact us before your purchase +1(510) 214-3093 or sales@firehosesupply.com