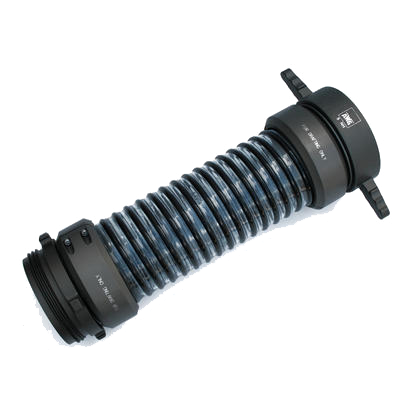 PVC Suction Hose:
24% tighter bend radius
Long life due to high UV inhibitors
Clear PVC hose allows for visual indication of water movement
Coupling can easily be removed in the field with standard Allen wrench
Aircraft aluminum # 6061-T couplings hard coated to Military spec Type lll specification for added abrasion resistance and long life
Beveled segment edges for easy loading into hose chutes
All metal segment collars secure coupling to hose – no plastic
All metal roller bearings in swivels – no plastic
Notes:
 Standard 10' length hose is measured from end of coupling to end of coupling

3" hoses 10 feet in length can be shipped via UPS or Fed-X ground

4", 5", and 6" hoses must ship via truck and cannot be delivered to a personal residence


5" & 6" hoses are shipped straight-flat to reduce possible damage to hose in transit

Storz X NH connections on one length can be supplied – call/request with specs for pricing
This hose is not to be used under pressure.
✔️ Delivery
All products are shipped within 24 hours of ordering Monday-Friday unless otherwise specified on the individual product description page. Your tracking number will be sent via email. Your item will ship from one of our three warehouses (California, Ohio, New York) depending on your location and stock availability. Most orders ship via USPS Air Priority, UPS Ground, or FedEx Ground. Most items ship free. If you need express shipping, please call us 1 (510) 214-3093 and ask us for help.
✔️ Returns
Returns on most new and unused items are accepted within 30 days of purchase unless items are described as "Special Order", "Used or Scrap", "Bulk Discounted Orders", "International Orders" or "Rare Fitting" in the product title or description. Custom length hoses are non-returnable. Custom lengths is anything outside of 25, 50, 75, or 100 feet. Customer is responsible for return shipping charges. If a return label is issued from Fire Hose Supply the return shipping fees will be deducted from the refund. A standard 25% restocking fee is applied to all returns. Returns must be approved before sending in. Contact us for an RGA or return slip for approval before you send in your returns. Once your returns slip has been issued it will list instructions with a ship-to address. Any return orders sent without an RGA or previous authorization may be rejected.
✔️ Special Order, Custom Order, Bulk Discount Orders, Rare Fittings & International Order Items
Special order, custom order, bulk discount orders, rare items & international order items cannot be cancelled or returned. Rare fittings include but are not limited to 2" NH (NST) and 3" NH (NST) fittings. Please make sure you are 100% sure of the product specifications you are ordering. If you don't fully understand the products you are ordering, please ask us for help to confirm the correct specifications you're looking for. Special order items are usually non-standard parts or bulk orders that are custom made directly from the factory.
✔️ Cancelled Orders
If you order has not been shipped it's possible to cancel. Cancelled orders are subject to 5% transaction fee. Cancelled orders due to backordered on listed "IN STOCK" items are not subject to a 5% transaction fee.
✔️ Warranty Information
All products will always be covered under their listed warranty. Product warranties are listed toward the bottom of each product description page. If you are unsure about your item warranty, always contact us before your purchase +1(510) 214-3093 or sales@firehosesupply.com